It's official: staying in is the new going out. Which is why it's time you started taking your loungewear seriously.
In the wake of the second coronavirus lockdown, we are again being told to work from home. While some of you will choose to continue wearing your casual shirts, others will reach for the comforts of pyjamas and dressing gowns. If you're looking to strike a balance between the two, we've pulled together the best loungewear for the job.
What is Loungewear?
Loungewear is comfortable but presentable clothing that you wear at home. For example:
Jumpers
Sweatshirts
Jogging bottoms
Loungewear vs Sleepwear
What is the difference between loungewear and sleepwear? Sleepwear is what you would wear to bed, while loungewear is what you wear around the house or to run small errands. It's smarter than sleepwear, but more comfortable that what you may wear to work. Sleepwear can be used as loungewear, however you shouldn't wear it outside to the house.
The Best Lounge Pants For Working From Home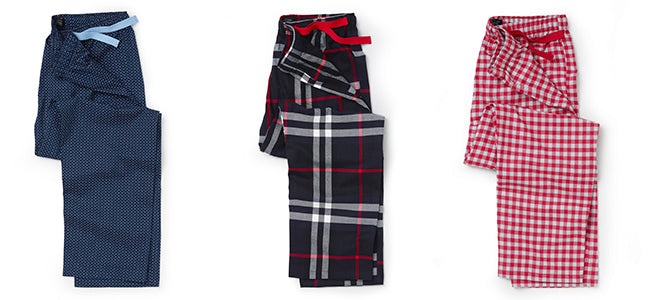 Super comfy and available in a range of classic designs, our lounge pants are a must-have for waist-up dressing. Perfect for Zoom or Skype work calls, this is where you dress smart on top (to appear to be dressed formally), while wearing casual bottoms to remain comfortable. Tip: just be careful you don't blow your cover by standing up during any important meetings!
The Best Knitwear for Working From Home
Colder climes are no match for vests. Instead, a merino wool jumper or knitted cardigan should be what you reach for in the morning. Our knitwear is on the smart side, but can be dressed down with a chinos or lounge pants while working from home.
The Best Pyjamas for Working From Home
Seeing as there isn't a dress code for working working from home, it would be silly to miss the opportunity to wear pyjamas at your desk. Be careful though, wearing the same set you wear to bed may harm your productivity levels; make sure you have a clean pair ready before starting your working day.
The Best Casual Tops for Working From Home
From cotton rugby shirts to jersey t-shirts and zip-up sweatshirts, our men's casual tops are the perfect loungewear choice. You can wear them with lounge pants when you know you won't be leaving the house, or with chinos or jogging bottoms for your trip to the supermarket.
The Best Dressing Gowns for Working From Home
Just like in the office, no two working days are the same; sometimes you will feel like getting dressed up, and other days you'll just want to feel comfortable. For the latter, we suggest investing in one of beautifully soft dressing gowns. Lightweight yet warm, they're ideal for days filled with admin. Just make sure you take it off for your Zoom meeting with the directors.
You can shop our full range of men's loungewear and nightwear online, or get more advice on what to wear while working from home.