We can't get enough of celebrities and the secret lives of luxury they lead. We're dying to see their vast walk-in wardrobes and even more desperate to emulate them. It may come as no surprise then to learn that when A-list suits go to auction, they fetch a hefty price!
From John Lennon's 1960s Douglas Millings suit to Daniel Craig's custom-made suit from 2015's James Bond: Spectre, there's no shortage of celebrity suits sold under the hammer. But, what are the most expensive suits to ever sell at auction? And what makes one of these suits so desirable?
To find out, we have analysed suit sales from the world's leading auction houses to determine the 10 most expensive celebrity suits to ever sell under the hammer.
Indian Prime Minister, Narendra Damodardas Modi
Coming in at number one is India's Prime Minister Narendra Damodardas Modi's suit, which sold at auction for a staggering £508,904.09 - landing it in the Guinness Book of World Records. He was photographed wearing the immaculate suit at his meeting with former US President Barack Obama in 2015. The somewhat controversial suit intricately spells out his name in what looks like a pinstripe pattern. Ultimately, the suit was sold to a man from Surat and the proceeds went to the Namaami Gange Trust fund, an initiative of the Modi cabinet.
The Beatles (all four suits)
In 2008, four Douglas Millings suits worn by each member of The Beatles during a pre-promotion of A Hard Days Night, was sold at an auction for £110,187.75. Douglas Millings, a British designer known as the 'Beatles tailor' made more than 500 outfits for the band during the peak of their popularity. The grey, wool suits with black velvet collars and blue lining included the designer's tag noting which Beatle wore which suit. While no information is publicly available on who bought the suits, obtaining this highly valuable collection was sure to thrill any hardcore Beatles fan.
John Travolta
The iconic 3-piece white suit worn by John Travolta in the 1977 film Saturday Night Fever was bought in a charity auction for around £1,440 by film critic Gene Siskel who was known for collecting film and sports memorabilia. After Gene's passing in 1995, the suit went to auction and was sold to an anonymous bidder for £106,821.01. In 2012, it was announced that the V&A Museum was putting on a Hollywood Costume exhibition. The owner of the suit, who still wishes to remain anonymous, came forward and allowed the museum to put the suit on display for the public to view.
Gene Kelly
The belted 2-piece suit worn by Gene Kelly in the classic movie musical Singin' in the Rain was sold at an auction for £65,000. The buyer, Robert Earl, who founded the restaurant chain Planet Hollywood had been after the suit for years and when it finally resurfaced he snapped it up! The suit was made specifically for Gene Kelly by Walter Plunkett and still has water stains inside from where Kelly was repeatedly soaked through during takes. Even his name on the label is smudged. In an interview, Robert Earl said that he planned to put the suit on display in one of his restaurants although had not decided which one.
Rudolph Valentino
The exquisite silk 'suit of lights' matador costume designed by Travis Banton for Rudolph Valentino to wear as Juan Gallardo in the 1922 silent drama movie Blood and Sand was one of the most important costumes in film history and highly sought-after. Consisting of a jacket and trousers decorated with intricate silver bullion, red faceted stones, sequins and beaded silver tone bullion fringe, both garments have the words 'Paramount Wardrobe - 11' and 'M3168' inscribed inside. The impressive suit sold at an auction in 2015 for £37,589.25 by an anonymous buyer.
John Lennon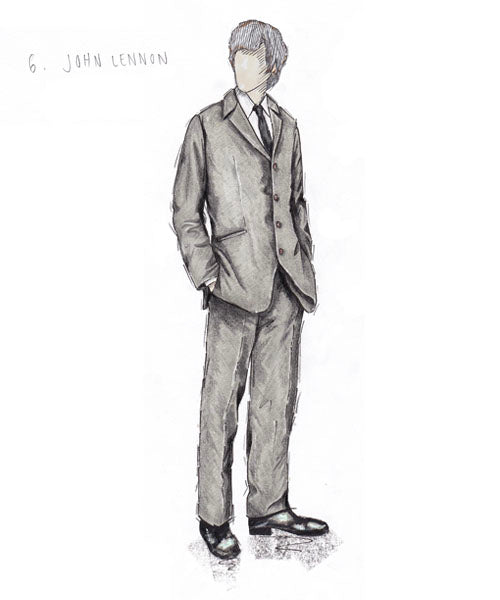 The Beatles wore many iconic suits, so it should come as no surprise that another has made it into the top ten list of the most expensive suits sold at an auction. Custom made for John Lennon, the skinny, grey wool 2-piece suit with narrow lapels sold for £31,424.46 in 2017, presumably to a music collector. It was another suit designed by Douglas Millings and features two D.A Millings labels and even has 'John' handwritten twice on the breast pocket and underneath the trouser zipper.
His Royal Highness Duke of Windsor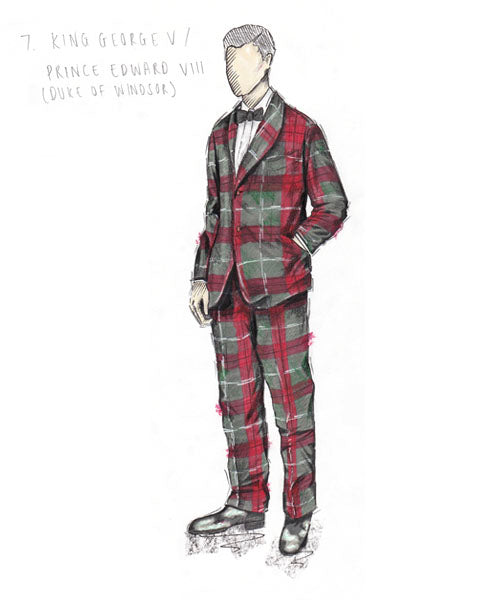 Originally made for King George in 1897 and then passed down to his son King Edward in 1936 and then again to Prince Charles, the fabulous 2-piece, wool, Rothesay Hunting Tartan suit in forest green, deep red, and pale yellow is an extraordinary piece of Royal fashion history. In 2017 the tartan suit went on auction and sold for £29,825.45. Though no labels or tailor's markings were present, the suit did also include a white cotton shirt that features a piqué bib monogrammed with a W and crown, along with three silk bow ties and a deep green silk cummerbund.
Daniel Craig
In 2016, a 2-piece dinner suit designed by Tom Ford and worn by Daniel Craig as James Bond in Spectre, sold at auction for £27,500 to an anonymous buyer. This instantly recognisable suit was worn in the promo shots and during the scene where Bond has dinner on the train in Morocco and during the following fight. The single-breasted cream silk jacket featured the Tom Ford label as well as the words 'Daniel Craig, Bond 24' embroidered inside.
Phoebe Waller-Bridge
Phoebe Waller-Bridge, star of popular TV show Fleabag, decided to auction off her fabulous, custom made suit she wore to the Golden Globes in 2020 on eBay to raise money for the devastating Australian bushfires. The glittering couture suit designed by Ralph and Russo featured a black silk lapel and geometric black and gold ribbon appliqué. The suit was bought by an anonymous buyer for £21,000 and Waller-Bridge claimed that she spent most of the night brushing it past and rubbing up against other celebrities such as Tom Hanks, Elton John and Olivia Coleman, so that the threads were laced with legends!
Orson Welles
Lastly, a 1930s style, navy wool, 3-piece, chalk stripe suit that was worn by esteemed American actor, director, screenwriter and producer Orson Welles during the final scenes of his most admired movie Citizen Kane in 1941, sold at an auction in 2015 to an anonymous buyer for £18,794.62. The classic suit was designed by Edward Stevenson who was the head designer at RKO Pictures at the time and featured a jacket with a notched lapel, three flap lower pockets, a four-button front closure and a Western Costume label which had 'O.Welles' inscribed on it.
Take a look at our collection of men's tailored suits for all occasions designed on Savile Row.
Does your suit need adjusting after lockdown? Whether you've picked up a new fitness routine or piled on a few extra kilograms, read our complete guide on suit tailoring and alterations to help change the way your suit fits.