There aren't many garments as versatile as the shirt. In fact, we can't think of any. Whether you wish to dress up or down, there's a style to suit every occasion. From casual shirts to formal shirts, this guide includes a selection of our favourite designs that can be worn to work, at the weekend and everything in-between.
The Best Shirts for the Office
The best options for the office are smart, practical and comfortable. Our non-iron shirts offer everything you need, and pair perfectly with your favourite suit and tie. Not only do they require no ironing in the morning, they also remain crisp and wrinkle-free throughout the day — so you'll always look your best. From striped non-iron shirts to options in pink and blue, there's plenty to choose from, and they're all made from 100% cotton woven in the world's finest mills.
The Best Shirts for Working From Home
This year has seen more and more people work from home, which has meant our everyday wardrobe has had to adapt to the new working environment. We've found that the casual shirt (particularly our check designs) is the perfect choice for those looking to strike a balance between presentable and comfortable. They're smart enough to wear for your daily Zoom call, but won't look out of place during your lunch trip to the supermarket.
The Best Shirts For a Party
Parties may not be on the agenda this year, but there will be plenty to catch up on once normality resumes. To ensure you look the part, a patterned shirt should be your first point of call; they're dressier than your average button-down Oxford, but more relaxed than a plain double cuff design. Wear yours with trousers for fancy events, or with chinos for a more casual affair.
The Best Shirts For a Wedding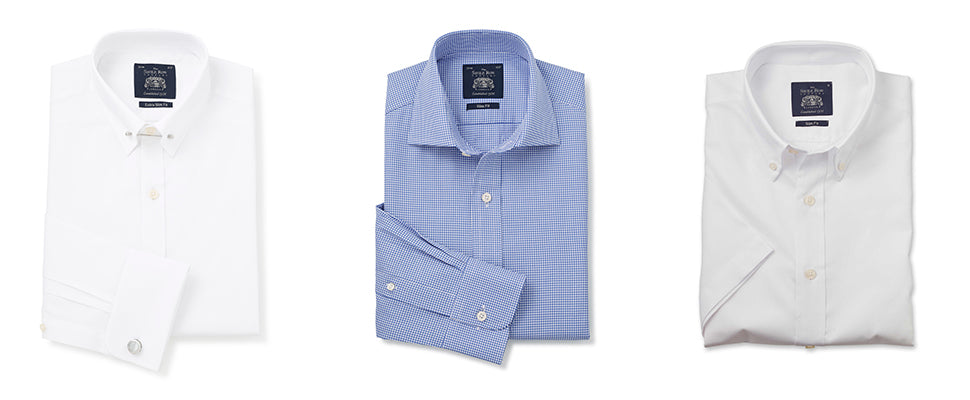 The shirt you choose for a wedding will depend on your role for the big day. If you're the groom, a white pin collar shirt is the perfect complement to a tailored suit and silk tie. For guests, something classic such as a white Oxford shirt would be practical, and looks great with a smart-casual jacket, chinos and loafers. If your wedding is abroad or during summer, a lightweight linen shirt is ideal.
Five Shirt Types Every Man Needs in His Wardrobe
If you're looking to invest in a collection of timeless shirts that can see you through any occasion, we suggest these five classic styles:
White Oxford shirt
Casual check shirt
Pale blue formal shirt
Plain white formal shirt
Linen shirt
You can shop our full collection of men's shirts online. If you're not sure on your size, you can read our guide on how to find a shirt that fits.