It's time to think about men's suits. Weddings are happening again; and while they may be smaller and not look much like the ones you're used to, there are still some fundamental features that have stayed the same. Primary among them: the dress code.
What to Wear to a Wedding
Wedding season can be stressful: finding a nice hotel, booking transport and buying the perfect gift. And this is all before you've even started to consider what to wear. To help you with the latter, we have rounded up five of the best wedding suit styles that will ensure you're dressed to impress.
The Best Wedding Suit for a Spring Wedding
The start of the wedding season calls for something classic, and there's nothing more timeless than the navy suit. As one of the most classic wedding suit styles in a gentleman's wardrobe, a tailored navy suit can also double-up for work, job interviews, or even the weekend. When wearing one to a wedding, team it with a crisp formal shirt (we think white or pale blue looks great), silk tie and smart lace-ups. For a pop of colour, stuff a printed pocket square into the chest pocket of your jacket.
The Best Wedding Suit for a Summer Wedding
A lightweight linen suit is the obvious choice for warm weather, but we find such tailoring better suited to locations abroad. When in the UK, simply leave the tie at home and team a light blue suit with a crisp white shirt and leather loafers. If the dress code is quite relaxed, you may even wish to swap your shirt for a plain crew neck T-shirt and wear smart trainers instead of shoes. Alternatively, you could team your favourite tailored suit with a linen shirt — which offers another way to look smart but keep cool.
The Best Wedding Suit for a Winter Wedding
Winter weddings call for more layers, so there are two options we find work best. The obvious choice is the reliable three-piece suit. Teamed with a classic formal shirt, tie and brogues, you'll be able to keep warm as well as look smart. When choosing your shirt, we recommend a single cuff version made using a herringbone weave. Albeit subtle, the textured weave will bring extra character to the look, giving your outfit a more wintery feel.
Another option, is to stick with a timeless two-piece suit, but add an extra layer with some knitwear. A classic crew or V-neck design works best. Wear this with a formal shirt and silk tie, and you'll have an outfit that looks great while preventing you from feeling too cold.
The Best Wedding Suit for a Black Tie Wedding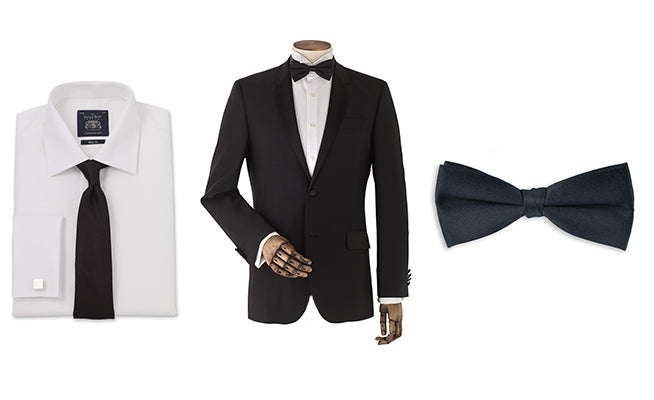 Popular in America, black tie is becoming an increasingly popular dress code for British weddings too. For a fail-safe ensemble, stick to the rules and opt for a classic black dinner suit with a white Marcella front shirt, black bow tie and patent Derby shoes.
You can find out more about this dress code by reading our black tie guide.
The Best Wedding Suit for a Country Wedding
Country weddings provide a great opportunity to move away from the business-like suits you would wear to more traditional venues, allowing you to be more experimental with your tailoring choices. We suggest investing in a tweed jacket, matching waistcoat and chinos or corduroy trousers. Finishing the look with a pair of brogues or Chelsea boots.
Shop our entire range of men's suits, and don't forget to make sure you wear a suit that fits.