If you're a man who loves to wear knitwear, you'll know how important it is to your wardrobe. Whether you're wearing a crew neck jumper or knitted polo, you can always rely on men's knitwear to keep you warm and stylish when it's cold outside.
But while wearing knitwear is simple, caring for it often needs a little more thought (especially when it comes to delicate materials). If you don't look after it the right way, it can easily fall out of shape or shrink.
To help you keep your knitwear in the best possible shape (and keep it looking great for longer), here are some tips on how to care for men's knitwear.
Read the Care Label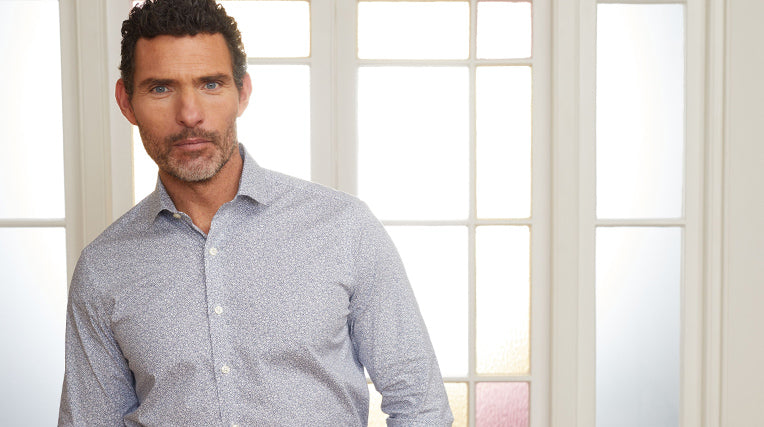 Before washing your knitwear, it's important to check the care label for instructions. Different fabrics and types of knitwear require different care, so it's essential to read the label before you start washing.
The first thing you want to check is the fabric you're dealing with. Different types of fabric will require different care. The care label will usually show you the maximum temperature to wash your fabric at. It will also highlight whether or not it can be put into the tumble dryer.
While some knitwear can be washed like your everyday men's shirt, other styles might not be suitable for machine washing, tumble drying or dry cleaning. These types of knitwear will need to be washed by hand (but we'll get to that shortly).
Understanding what is printed on the label is really important. If you don't follow the instructions, you could risk ruining your new garment. If you're unsure, or the label has faded, get in touch with the manufacturer to check (or seek the advice of an expert).
How to Hand Wash Knitwear
Hand-washing isn't always necessary. However, if the label states that you can't wash your knitwear using the standard methods, this is what you'll need to do:
Fill a bowl or sink with cold or lukewarm water and gently mix it with some mild liquid soap.
Turn your knitwear inside out and submerge it into the water—leaving it to soak for roughly five to 10 minutes.
Empty the bowl or sink and refill it with new water.
Start to rinse the knitwear and gently swish it back and forth to rinse out the soap. Repeat this step until the soap is gone.
When you're done with rinsing, gently squeeze as much water as you can from the knitwear. Do not wring or twist.
How to Dry Knitwear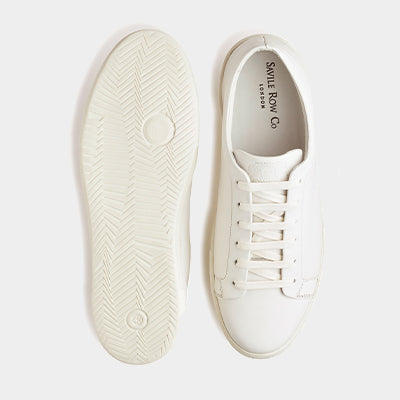 Whether you machine or hand wash your knitwear, the drying process is the same (unless the care label says that you can put it into the tumble dryer). We would always recommend using the below method to avoid shrinkage:
Step 1: Lay down a dry towel and spread your knitwear flat. Gently roll the towel (with your knitwear inside) and press down as you go to remove moisture. Never twist.
Step 2: Unroll the towel and lay your knitwear on a new towel that's been placed on a flat surface.
Step 3: Reshape your garment by spreading the arms out straight and aligning the collar. If there's buttons, button them up. Leave it to dry for roughly 12 to 24 hours. This will vary depending on the temperature of the room and thickness of the knit.
Step 4: Once completely dry, your knitwear is ready. If any wrinkles or folds have formed, simply use a steamer to remove them.
How to Machine Wash Knitwear
If the label states that you can put your knitwear into a washing machine, pay close attention to the instructions. It's very important to use the right timings and temperature to avoid shrinking and fading. As a general rule of thumb, you should use a cold wash with a mild washing detergent. Hot water and harsh detergents can damage the fabric.
How to Store Men's Knitwear
Storing men's knitwear can be tricky. Unlike other clothing items, knitwear is delicate and needs to be handled with care when storing. Here are some tips to help you store your knits properly and keep them in prime condition for years to come.
Avoid Hanging Knitwear. Ideally, you want to avoid hanging your knitwear. If you leave it on a hanger in your wardrobe, this can stretch out the shape and leave bumps in the fabric (particulary at the shoulders).
Fold Knitwear. Knitwear should be folded carefully. It can then be stored in a drawer or on shelves to make sure it stays looking good for as long as possible. You can gently steam out any wrinkles or fold marks, and use a lint remover to get rid of any pilling or bumps.
Keep it Clean. When storing knitwear, it's important to only store it when it's clean. Moths are attracted to clothes that have been worn and left sitting in spaces like the wardrobe. By making sure you only put away clean knitwear, you can avoid being left with little holes in your favourite jumper. For further protection, you can always use lavender bags and mothballs to keep pests away.
Keep it Cool. Keep knitwear in a cool, dry place. Humid or warm conditions can cause the fabric to stretch or wear out faster.
How to Wear Men's Knitwear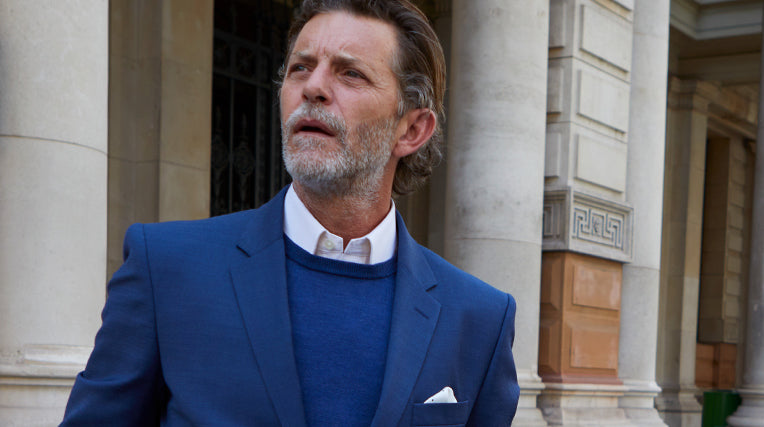 Now you know how to care for men's knitwear, we're going to help you style it. Thankfully, it's super versatile and can be worn with a wide variety of garments that you probably already own.
You can wear it to work or at the weekend, and it can be dressed up or down depending on the occasion. Better yet, you can layer it to keep you super warm, or wear it alone when it's not so cold.
For a relaxed ensemble, you can try crew neck jumpers or knitted polos with jeans or chinos and your favourite smart-casual footwear. Cable knits and looser fits will help give you that dressed-down feel.
If you're looking for something a little dressier, choose fitted styles such as our merino wool jumpers with fully-fashioned sleeves. These will pair particular well with suit trousers, but can also look great with smart jeans. You can wear them alone, or layer them on top of a shirt or underneath a tailored suit.
Whatever outfit combination you choose, the most important thing to consider is to wear knitwear that fits with your style and the occasion. And above all else, ensure you feel comfortable and confident in what you're wearing.