You know where you are when the invite says 'black tie' or 'white tie'. And hardly anybody asks anyone but the wedding party to wear morning dress these days … But what do men wear to weddings if the invite doesn't mention a dress code?
The simple answer is 'semi formal' - unless the venue is somewhere (like a beach!) that obviously calls for more casual attire.
And in wedding terms, 'semi formal' means a lounge suit (which is just another way of referring to a business suit). The trick is how to wear your lounge suit so you look (and feel!) like the perfect wedding guest, not an executive … And that's what this post is all about.
Think about the venue – and choose which suit you'll wear
Where is the wedding going to be held? This helps you decide which of your business suits to wear. If the venue is a country manor, that suggests that you should go for a more classic look than if it's a city registry office, for example.
So, for a country manor wedding you might choose a classic grey suit, like this:
And for a city registry office, something slicker and more contemporary, like this navy suit: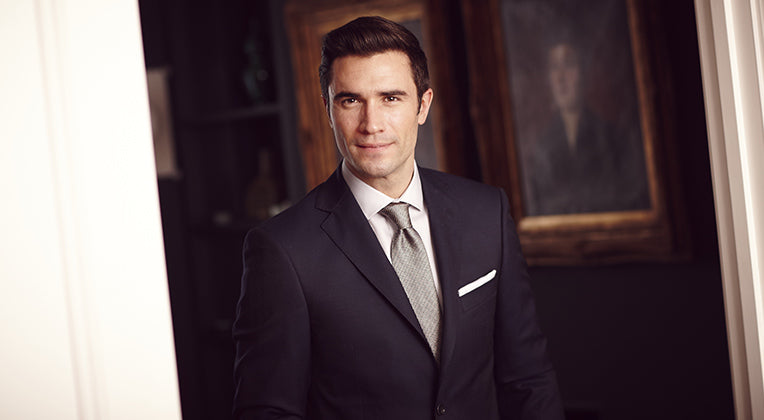 If in doubt…
If in doubt, either ask your hosts (remember – they want everyone to feel good and have a great time) or go for over-dressed rather than underdressed. You can take off your jacket and your tie and you can open your collar… but there's not much you can do, other than feel uncomfortable, if you're in chinos while everyone else is in a suit!
Choosing a shirt to wear to a wedding
The look you're aiming for is more elegant than business-like. So no bold 'city stripes' and no assertive checks. You can't go wrong with plain white shirt or a light 'pastel' shade. Pale pink, blue or lilac, maybe. Stripes aren't out altogether but they should be very quiet and subtle.
The secrets of picking the right shirt to wear to a wedding are:
choose a luxurious texture like a herringbone or twill, rather than plain poplin
make sure your sleeves are the right length so that your cuffs are just peeking out of your jacket sleeves
choose a shirt that you can wear with cufflinks – more about the cufflinks later
choose a shirt that you'll feel right in when the party starts in the evening. You know, when the jackets and ties come off and the top buttons are undone…
So, with your grey suit, you might go for a shirt like this: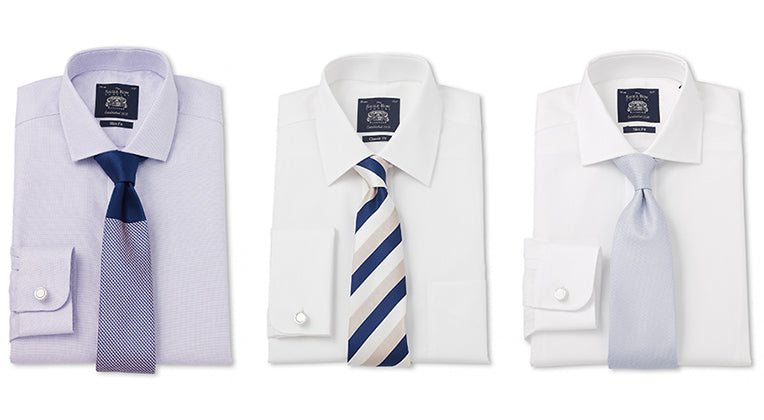 And, with your navy suit, it might be one of these: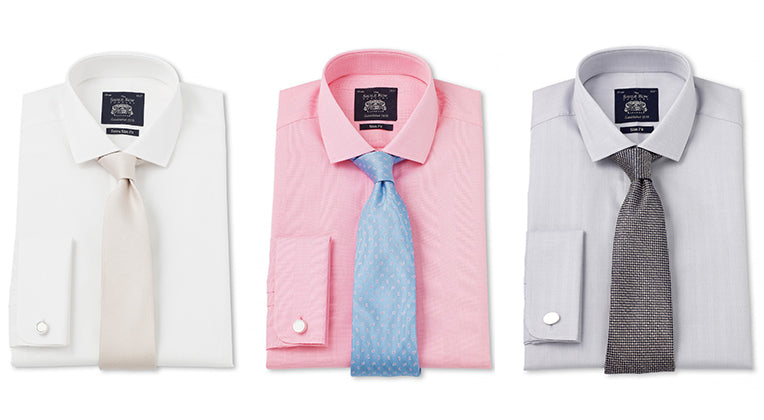 On the subject of your cuffs…
Your jacket sleeves and shirt sleeves are just the right length so that your shirt cuffs are just peeking out of your jacket. Perfect!
Now what about cufflinks? They're a brilliant way to 'dress up' your wedding guest look. And you don't necessarily need a double cuff shirt: lots of our single cuff shirts can be worn with cufflinks.

Choosing shoes to wear to a wedding
One clever way of shedding the corporate look is to go for brown shoes rather than black. (And brown shoes means, of course, matching brown belt.) Or you could opt for brogues or monkstraps, rather than a more business-like style such as the traditional Oxford dress shoe.
A couple of tips for picking the best shoes to wear to a wedding are:
think about the venue: if there's any chance it might rain, or have been raining, and you might end up standing on grass for that country manor photo … don't wear suede shoes. Wet suede is not a good look and wet feet aren't good for the party spirit.
if you're buying new shoes for the occasion be sure to wear them in before the day. You want to be dancing, not hobbling, when the lights go down!
Ok, so now you've got your suit, your shirt and your shoes (and your belt) sorted, it's time to add a few flourishes to take the 'occasion' style up a notch and banish any hint of a corporate look.
Choosing the right tie to wear to a wedding
Pick a tie that's stand-out different from one that you'd wear to work to give your suit a party look. Again, this is not the best moment for bold stripes.
If you're wearing a grey suit, a pale, plain silk tie or a subtle, pastel paisley would be perfect:

And if you're wearing a navy suit, think about something bright and uplifting like a pink pinspot:

Whichever tie you choose, remember that adding a simple silver tie pin is a special touch – and a great way of upping the wedding style.
A pocket square is a tiny little flourish that makes such a huge difference! If you haven't worn one before, having a wedding to go to is the perfect reason to acquire one.
Check out What's the point of a pocket square for some general tips on choosing one to go with your suit. And How do you fold a pocket square for instructions on how to fold.
Preparing for the day
It's not your wedding, but if you want to look and feel right – and be a great guest – you still need to do a spot of pre-planning. Don't leave anything till the night before! Assemble the entire outfit to check it looks good while you've still got time to sort things out. Make sure your chosen suit and shirt are clean and pressed, the shoes are polished and you can lay your hands on all the right accessories.
Final tip!
If going to a wedding puts you in the mood for romantic gestures, make sure you have a freshly pressed cotton hanky in your pocket. If one of the ladies should happen to get a trifle tearful in the course of the proceedings, you can be outrageously gallant and lend it to her!
*Not all of these items are now in stock*