Nothing completes a tailored ensemble better than an elegant timepiece. However, deciding what watch to wear with a suit is easier said than done. To help, we've teamed up with Henry London and created this definitive Savile Row guide.
Selecting Your Style of Watch
Although the style of your watch is a personal choice, it's important that the design you choose doesn't distract the eye from your suit. To avoid such complications, we suggest opting for one of two styles. For those worried their watch will go completely unnoticed, mesh watch straps will add just the right amount of character to your outfit – whilst a classic leather strap offers a more timeless feel.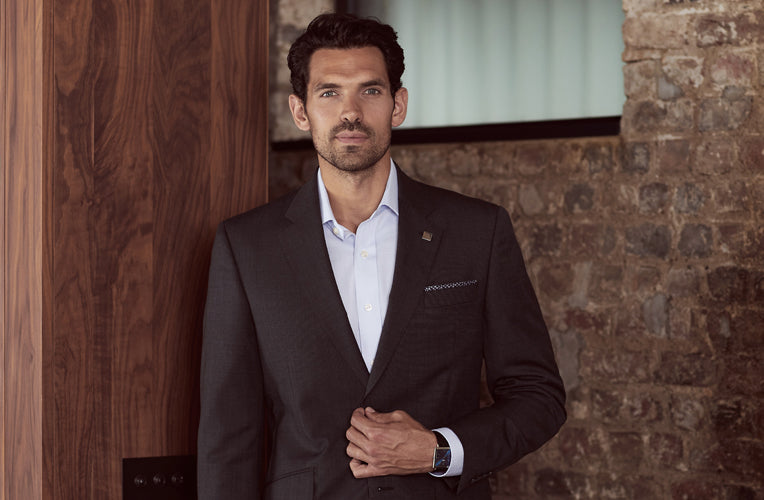 Choosing Your Size
Just like the style of your watch should be tasteful, the size should also be understated; serving as a complement to a tailored suit, rather than demanding attention. It should be round or square, and the size of the case should be thin enough to slide underneath your shirt cuff without getting caught.
Picking the Colour
When it comes to selecting the colour of your watch, it's your shoes (not your suit) that should determine your choice. Wearing brown shoes with a navy suit? Opt for a watch with a brown strap. Black suit with black shoes? A black-strapped watch would be perfect. Alternatively, men's silver watches will work well with almost any coloured tailored suit.
Final Word
Now you know what watch to wear with a suit, we suggest visiting Henry London to discover their selection of quartz watches. To see our collection of tailored suits, click here.
Who are Henry London?
Makers of heritage watches, Henry London was established after two designers stumbled upon a 1960s vintage watch whilst exploring London's famous Portobello Road Market. Inspired by the design, they created a collection of affordable British watches that offer the perfect blend of style and function.