The ultimate staple, the smart-casual polo shirt has surpassed its sporting origins and cemented itself as one of the most versatile garments a gentleman can own. Here, we give you the best polo shirts for men and show you three ways to make the most of the timeless menswear must-have.
How to Wear a Smart Casual Polo Shirt on Holiday
Whether it's a tropical getaway or a city break, when it comes to packing for your holiday you need to be smart. Instead of stuffing your case with whatever fits, focus on classic items that are easy to wear, and above all, versatile. This is where the polo shirt comes in. Suitable to wear to dinner with some tailored shorts, but casual enough to wear to the beach with your swimwear, the trusty polo will help you to create endless outfits — leaving you with more room for any treats you may pick up at duty-free.
How to Wear a Smart Casual Polo Shirt to Work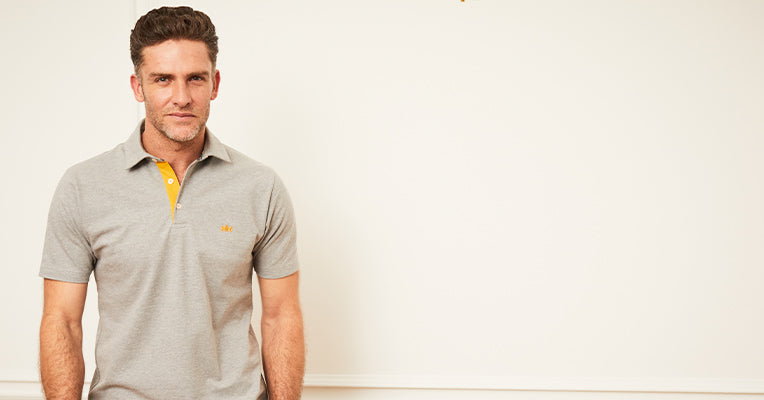 When you're looking to shed some layers during the summer, it can be easy to let your style standards slip. We understand the need to keep cool, but we don't agree with looking sloppy in the process. The polo shirt can help. Teamed with chinos and suede Chelsea boots, it's the perfect choice for stuffy offices. For more formal settings, try pairing a knitted version with a tailored suit and leather loafers. We find the most office-friendly colours are black, navy or grey, however if your boss allows a more relaxed dress code, there are plenty of vibrant options such as red, yellow and green.
How to Wear a Smart Casual Polo Shirt to a Bar
Crafted from super soft cotton, our classic short-sleeve polo shirt has the ability to look utterly effortless while never leaving you feel underdressed — making it the ideal choice for drinks at the bar. If you're heading out in the evening, try teaming your polo with a blazer, slim-fitting dark jeans and Derby shoes. For day-time drinking, take things down a notch with chinos and suede loafers. To inject a little flair and personality into your look, accessorise with a classic timepiece and a leather belt.
Dos and Don'ts When Wearing a Smart Casual Polo Shirt
Don't pop the collar. You're not a teenager anymore. This 'trend' is a thing of the past.
Do feel free to tuck it or leave it untucked. A polo shirt can be worn both ways. Tucking will give you a more formal look, while untucking is more casual.
Don't wear it with a tie. Ties are to be worn with shirts only.
Do button up at least one of the buttons. We feel having all the buttons undone can look a bit sloppy.
For more style tips you can take a look at three more ways to wear a smart casual polo shirt. Alternatively, you can shop our full casual tops range.