All good things come in threes; musketeers, Charlie's Angels and the Bee Gees. The three piece suit is no different. A versatile addition to any tailoring collection, it is a classic staple that will instantly improve your formalwear. This handy guide will tell you everything you need to know about the three piece suit, including where you should wear it and what you should wear it with.
What is a Three Piece Suit?
As its name suggests, a three piece suit consists of three garments: a jacket, trousers and waistcoat. A must-have for any tailoring enthusiast, it is often considered as a dressier alternative to the classic two-piece design.
When Should You Wear a Three Piece Suit?
Three pieces suits exude sophistication, so they are often reserved for formal events such as the races, weddings or important business meetings. However, if styled correctly, they can also be an excellent choice for semi-formal occasions too.
How to Wear a Three Piece Suit for Formal Occasions
To wear a three piece suit for a formal occasion, choose a classic design (without pattern) in a simple colour. Black is an excellent option for evening functions, while navy or grey would be better suited to day events. To complete the look, add a plain formal shirt, silk tie, pocket square and leather shoes. And don't forget to leave the bottom button undone on your waistcoat. This will not only ensure it hangs neatly and comfortably throughout the day, but it will also give you a little more room for movement after a day of drinking and eating.
How to Wear a Three Piece Suit for Semi-Formal Occasions
While three piece suits are often kept for sophisticated environments, they can also be used effectively for semi-formal events such as:
After-work drinks
Christmas parties
Restaurants
Wedding reception
The trick to pulling off the look is to strike a perfect balance between smart and casual. To do so, avoid bold colours or patterns, and keep your accessories to a minimum. You may also want to replace your shirt with a knitted roll neck, or swap your formal shirt for a casual one without a tie.
How Should a Three Piece Suit Fit?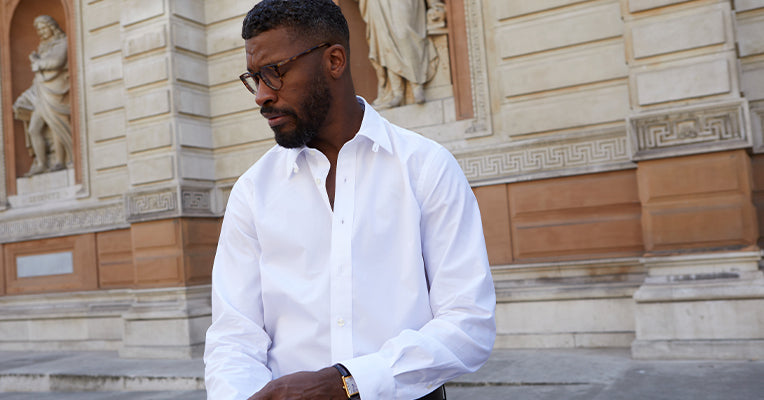 The way your suit fits will depend on how you feel most comfortable, however you should make sure each piece of the suit is tailored close to your body. The shoulders of your jacket should end at your shoulder edge, while you should be able to slip a flat hand under the lapels once it has been fastened. Sleeves should fall where the base of your thumb meets your wrists — leaving a small part of your shirt cuff on show. The waistcoat should be cut close to the body without being too tight; and you should pay close attention to the armholes, making sure they aren't baggy nor cutting into your armpit.
You can read more about how a suit should fit here.
Top Tips for Wearing a Three Piece Suit
Before buying or wearing your three piece suit, take a look at our top tips below:
Always leave the bottom button undone on your jacket and waistcoat. You may also decide to leave the jacket unfastened.
Pair your three piece suit with smart accessories, such as a tie, pocket square and leather shoes.
Fit is vital. Make sure your suit is not too tight or baggy.
Keep your shirts simple and let the suit do all the talking.
For semi-formal events, team your three piece suit with a button-down shirt or roll neck.
Discover our collection of men's three piece suits here.