Polo shirts are an essential part of any well-rounded wardrobe. They're a great choice for a wide range of occasions, including summer holidays, city breaks and business trips; so it's important you know how to fold them.
How to Care for a Polo Shirt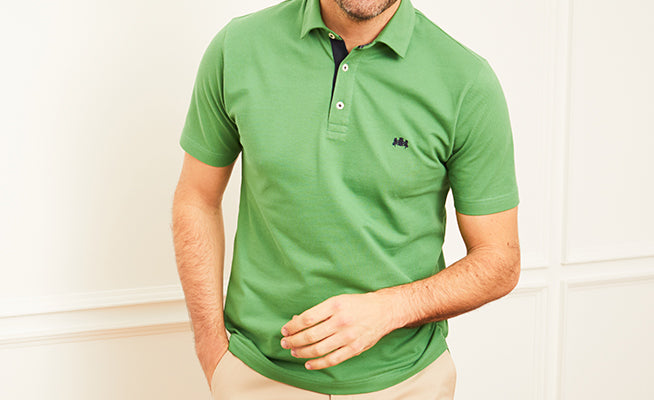 Folding your clothing not only saves space in your wardrobe or suitcase, but it can also increase the lifespan of your garment by helping to take care of it. To ensure your folding efforts aren't going to waste, there are a few things to do before packing it away.
Step One
You should always strive to wash your polo shirt as the care label instructs you to do. Although it can be tempting to wash everything the same way, by washing your clothes the way they need to be taken care of, you will ensure they last longer and continue to look great.
Step Two
While it is quicker and easier to put your polo shirt into the tumble dryer, we find the best way to minimise wrinkling is to leave it drying on the washing line. This way, many of the wrinkles created by washing process will drop out — meaning you spend little or no time ironing or steaming.
Step Three
The final step in properly caring for your polo shirt is to fold it as quickly as possible after washing and drying. If you do decide to use a tumble dryer, the longer your clothes are sat in a pile, the more prone they are to wrinkles.
How to Fold a Polo Shirt
Polo shirts can be hung in your wardrobe, however to save space we recommend folding them to leave more room for your suits, shirts and outerwear. Folding your polo shirt is also necessary when packing for a trip. This is how to fold a polo shirt:
1. Lay your polo shirt on a flat surface and straighten it out with no wrinkles.
2. Button up all the buttons.
3. Flip your polo shirt over so that it is button side down.
4. Fold the sleeves into the body of the polo by taking each sleeve and folding it back to the middle of the shirt.
5. Smooth the shirt out with your hands. The key to folding any shirt, including polos, is to run your hands over the fabric after every fold. This will help to smooth out the wrinkles and to ensure tight, secure folds.
6. Now, fold in the sides of your shirt. Take the side and fold it in towards the middle.
7. Repeat with the other side of the shirt so both sides are folded in and touching each other.
8. Bring the bottom of the shirt up to the collar to fold the shirt in half.
9. You may need to do an extra fold depending on the polo shirt's length. If your shirt is extra large or extra long, then a single bottom fold may not be enough.
Top tip: Make sure you do not pack your shirts too tightly in your drawer. When clothing is pressed down on too much, wrinkles are far more likely.
How to Roll a Polo Shirt
To save even more space in your wardrobe or suitcase, you may wish to roll your polo shirt instead of folding it. This is also a great way to avoid wrinkles. To do so:
1. Lay your polo shirt face down on a flat surface. Make sure the collar is straight and the buttons are fastened.
2. Begin by folding the bottom of your shirt up about four inches. This will shorten how much of the shirt you need to roll.
3. Bring the sleeves into the back middle of the shirt so they are touching when folded.
4. Smooth down the shirt before rolling.
5. Begin rolling from the collar and roll down. Keep the roll tight, but only press lightly against the sides of the roll.
Discover our full range of men's polo shirts, or alternatively you can take a look at our style guide which gives you three ways to wear them.