A gentleman not only acts and lives elegantly, but dresses it too. And he certainly doesn't let his standards slip just because he's at home. To help you achieve true gentleman status, this guide will tell you everything you need to know about men's pyjamas – including their history and the best styles to buy.
Pyjamas: Where Does the Word Come From?
The word pyjama stems from the Hindi word 'paejama' – meaning 'leg clothing'. Alternate spellings include: pajamas and the abbreviated pj's.
Who Invented Pyjamas?
While no one has been able to pinpoint the exact date that pyjamas were first worn, the earliest records date as far back as the 13th century Ottoman Empire. Worn by both sexes in India, Iran, Pakistan and Bangladesh, they were traditionally loose trousers or drawers with a cord or drawstring to tie around the waist. It wasn't until the 14th and 15th centuries that Europeans discovered the pyjamas of these cultures and adopted them to fit their own climates.
Why Wear Pyjamas?
Sure, dressing well is a full-time occupation – but wearing pyjamas at home isn't just about looking good, they have many other benefits too. Sleeping in your boxer shorts is perfectly fine during the warmer months, but when temperatures drop, pyjamas offer a comforting helping hand. Not to mention, they also come in rather handy when answering the door to delivery drivers and neighbours.
What to Wear with Pyjamas
For ultimate relaxation, take a look at our other nightwear essentials:
Dressing Gowns
Beautifully soft, our men's dressing gowns will give you an extra layer of warmth during the winter. They're available in multiple colourways and come with spacious patch pockets that can easily accommodate your reading glasses and the TV remote.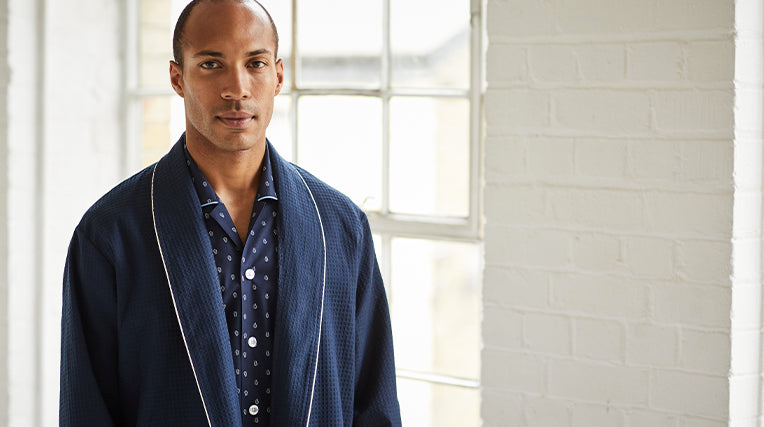 Slippers
A pair of slippers will not only complement your pyjamas, but they'll also save your feet from the cold floor during trips to the kitchen. Our collection boasts a range of styles including microsuede mules and classic moccasins.
Rules for Wearing Pyjamas
Pyjamas should be washed at least once a week
You can wear pyjama bottoms on their own, but never the top
It's polite to wear pyjamas when staying in other people's homes
Pyjamas should not be worn to do your weekly shop
Where to Buy Men's Pyjamas
Shop all men's nightwear online here.