After a tricky few years for the world of weddings, they're officially back on track. And while this is certainly cause for celebration, there are a few sartorial hurdles you must jump before you reach for the cufflinks and confetti. One of those is what to wear to a wedding.
Thankfully, we're on hand to help. Whether you're groom, guest, best man or father of the bride, we've pulled together everything you need to know before the big day. Keep reading for our definitive men's wedding guide.
What a Man Should Wear to a Wedding
What a man wears to a wedding will usually be influenced by the dress code. For example, the invitation may specifically ask you to wear white or black tie. If this is the case, it's going to make your job considerably easier. Simply follow the rules of that specific dress code and you can't go far wrong.
On the other hand, you may simply be asked to dress 'smart', or there may be no outfit instructions at all. If your upcoming wedding falls into one of these categories, we suggest investing in a classic navy suit. Versatile and undeniably elegant, it's suitable for all seasons—so it doesn't matter if your ceremony is in the midst of summer or late winter. You can team it with everything from pin collar shirts and silk ties, to crew neck T-shirts and trainers
What to Wear to a Summer Wedding
If you have weddings on your calendar, it's likely that at least one of them will be in the height of wedding season: July to September. And while summer weddings are great, keeping things smart (while avoiding seriously overheating) can prove a rather tricky task.
Solution #1 is our light blue suit. It's made from a luxurious wool-blend fabric that's not too heavy, but will keep you warm enough once the evening arrives. Suitable for groom or guest, it features a hint of stretch for comfort and comes complete with classic notched lapels and handy front pockets. Inside you'll find further pockets, plus contrast lining for an impressive finish.
Solution #2 is only recommended if you're a) a guest and b) your wedding champions a casual dress code. If this sounds like you, keep your temperature down by leaving the suit at home and teaming a short-sleeved polo shirt with tailored trousers or chinos. A pair of leather loafers will help dial up the dressiness.
What to Wear to a Winter Wedding
Winter weddings are perfect for layers and thicker fabrics such as wool or tweed. The obvious choice is the reliable three-piece suit. Teamed with a classic formal shirt, silk tie and brogues, you'll be able to keep yourself warm while remaining smart.
When choosing your shirt, we recommend a single cuff version made using a herringbone weave. Albeit subtle, the texture created by the weave will bring extra character to the look, as well as giving your wedding outfit a welcomed wintery feel.
The second option is to stick with a timeless two-piece suit, but add your extra layer with some lightweight knitwear. We think a classic crew or V-neck design works best, with a timeless button-down Oxford shirt underneath. Add your favourite silk tie to the mix, and you have yourself a winter-ready outfit that not only looks great, but prevents you from catching a chill.
What to Wear to a Black Tie Wedding
If you've ever been to a black tie event before, all of the same rules will apply to your wedding outfit. To summarise, this includes a dinner suit (otherwise known as a tuxedo), white dress shirt, black silk bow tie and black shoes (ideally patent). It's important not to confuse the black tie dress code with white.
While similar, white tie is slightly more formal than the black tie dress code. Men should wear a black evening tailcoat and matching trousers with a white waistcoat, wing collar shirt and white bow tie.
What to Wear to a Wedding Dos and Don'ts
When comparing the modern wedding to those in the past, there are far fewer sartorial rules to follow. Many brides and grooms are doing away with traditional dress codes and allowing guests to dress as they please (to a certain extent). However, before you reach for your own concoction, there are still a few things to remember in order to remain respectful and suitably dressed.
Don't upstage the groom
They say you should never upstage the bride, and this goes for the groom too. This doesn't mean you shouldn't pull out all the stops to look your best, but it does mean keep your outfit subtle and classy. Avoid bright coloured suits and anything else that may draw the attention away from the stars of the show.
Don't go too casual
Even if no dress code has been specified, that doesn't mean you should turn up in a pair of jeans and a T-shirt. It's better to be overdressed than undressed, so you should always have a classic navy or grey suit to turn to. Alternatively, you could simply wear your favourite formal shirt and a pair of trousers.
Don't over-accessorise
Accessories are great; they can help turn an ordinary outfit into something special. However, it's important to never over-accessorise (especially at a wedding). As a general rule of thumb, a man should only use around three to four key accessories: a nice watch, pair of cufflinks, tie and pocket square. Opt for anymore, and you risk upsetting the balance of your outfit.
Don't go against the dress code
If a dress code has been clearly set, stick to it. Sure you can add your own personality to your outfit with accessories, but the rest of your look should follow the wishes of the bride and groom. No matter how much you want to wear your new tuxedo…
Do mix and match
While we will always champion the classic two-piece, we also suggest splitting your tailoring into separates (especially when you're in need of new wedding outfit ideas). Not only does this allow you to get maximum wear out of your garments, but it's a great way to set yourself apart from the navy and grey suits often worn by wedding guests.
Do match your belt and shoes
When we say your belt and shoes should match, we don't mean exactly. It's fine if they're made from different fabrics or have slightly different shades, but they have to work well together. For example, a pair of chocolate brown shoes can work particularly well with a chestnut brown belt, whereas burgundy and light tan isn't going to look so great. Needless to say, black and brown should be kept apart.
Do match your socks with your suit
For the most formal looks, your socks should always match your trousers. Black socks with black suits, navy with navy, and so on. However, if your outfit is leaning more towards the smart-casual dress code, there's no reason why you can't pick socks that reflect the colour of your tie or pocket square. Just be sure to avoid any novelty pairs; you should keep them for Christmas only.
Do leave your bottom button undone
When wearing a suit, you should always leave the bottom button open. This rule also applies to waistcoats too. Why do we do this? Not only does it help your garment hang better on the body, but it's said to have started when the future Edward VII was Prince of Wales. The stories say he became so fat that he was physically unable to fasten his bottom button. To follow royal suit, his loyal subjects started unbuttoning theirs, until everyone got in on the act.
What to Wear to a Wedding FAQs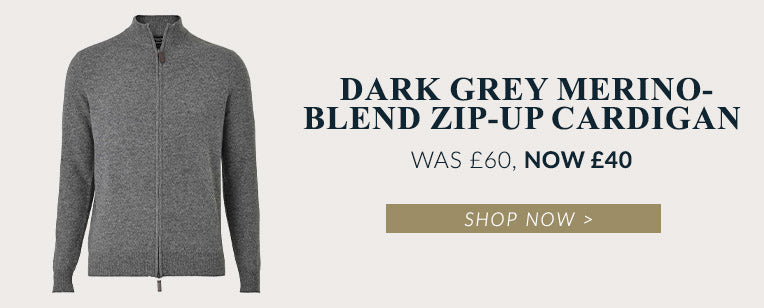 To help you decided what to wear to a wedding, we've answered some of the most commonly asked questions surrounding men's outfits for the big day.
What Colour Shirt Should a Man Wear to a Wedding?
As with many of your wedding outfit choices, the colour of your shirt can often be determined by the dress code. If it's relaxed (or during the summer), you may decide to opt for a lightweight linen shirt, or perhaps something of the patterned variety. Otherwise, we suggest sticking to the smartest option: a fitted formal shirt in a subdued, block colour. Think white, light blue or pale pink.
Do Men Have to Wear a Blazer to a Wedding?
Weddings typically call for a suit, tie and formal shirt. But this doesn't mean you can't wear anything else. For casual affairs, you could certainly team a blazer with a button-down shirt and chinos. Alternatively, you could choose to steer clear of suits and blazers altogether—instead opting for a shirt and trousers (if the dress code allows it).
Can You Wear a Suit Without a Tie to a Wedding?
While a silk tie will definitely help make your outfit appear smarter, there are no rules in place to say you have to wear one to a wedding. In fact, wearing a suit without a tie can work particularly well for summer ceremonies or those taking place abroad. If you do decide to go tieless, we suggest using a silk pocket square to take it's place (in your jacket pocket, of course). This will give your outfit a splash of character and add an extra point of interest.