Every men's formal shirt collection should include at least one white shirt (ideally two or three). A staple item of clothing for gentleman of all sartorial preferences, it's a must-have for work, weddings and everything in-between.
Whether you're wearing yours to a christening, important meeting or party, there's endless potential for a white shirt to be styled. This guide will provide you with a range of outfit ideas, plus give you an idea on where you can wear them. It'll also give you all the tips you need to help you keep it looking fresh for longer.
No matter what look you're going for, a white shirt is an essential garment that can be worn in many different ways. Keep reading for five ways to wear a white shirt—you'll be able to create a variety of stylish and versatile looks that are sure to impress.
How to Wear a White Shirt Casually
A white shirt offers a great way to dress up a casual look. To create a relaxed, smart-casual outfit, start with your preferred white shirt (we'd recommend the button-down Oxford) and add a pair of dark jeans or chinos, with some brown boots or loafers. This will give your ensemble timeless appeal that can be worn both during the day and in the evening.
How to Wear a White Shirt Formally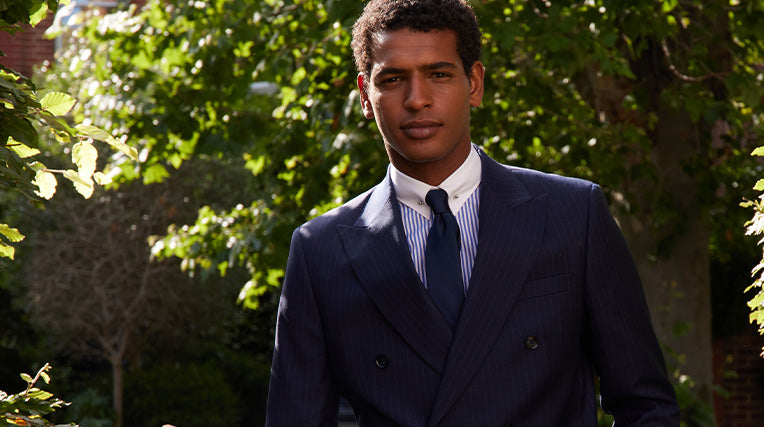 The foundation for any formal look, the white shirt is the perfect backdrop for your favourite silk tie. First choose the collar that best suits your face shape, and then complete the rest of the look with your choice of trousers and shoes. You may also want to wear a tailored suit.
For a fail-safe outfit, try teaming a men's formal shirt with a patterned tie, navy suit and black shoes. This look is perfect for weddings and many other special occasions. For an extra touch of sophistication, you could add a pocket square or lapel pin.
How to Wear a White Shirt for Business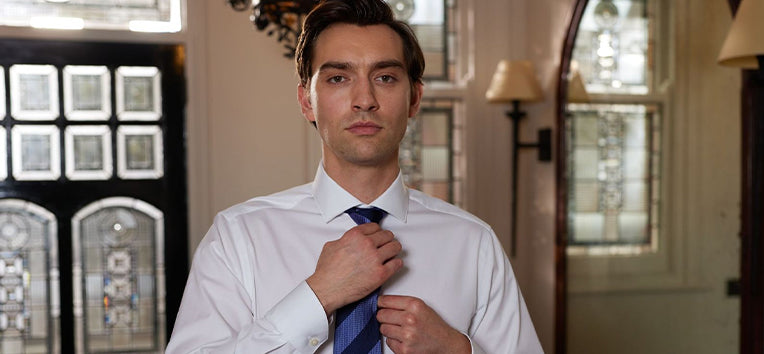 For a business-appropriate look, start with a formal white shirt and pair it with a navy or grey suit. You can then add an appropriate tie, plus some dress shoes in black or brown leather. This tailored ensemble is an excellent option for meetings, interviews, and other professional occasions. If you want more of your personality to shine through, you can add some eye-catching accessories such as a pocket square or cufflinks
How to Wear a White Shirt at the Weekend

If you want to keep things extra casual, you can still make use of the white shirt. To create a laid-back look, pair a casual white shirt with a pair of chino shorts and boat shoes. This is the perfect combination for the weekend, especially during the summer. For days in the office, you could swap the shorts for some chinos or dark jeans.
How to Wear a White Shirt to the Beach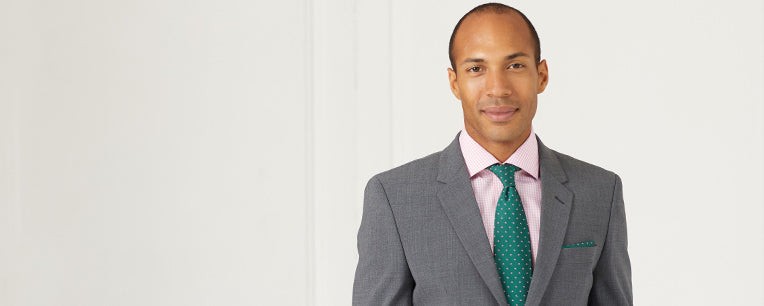 Heading somewhere hot? A white shirt can also be used to create a beach-ready look. To do this, opt for a short or long-sleeved linen shirt and team it with shorts and sandals. This outfit will take you from days spent by the pool, to beach bars and alfresco dining. To complete the look (and keep you sheltered from the sun), add a straw trilby hat and some classic sunglasses.
Where to Wear a White Shirt
By now you'll understand how important a white shirt can be to your wardrobe. As stylish as they are versatile, they can be dressed up for the office, or worn casually at the weekend. No matter what the occasion, there are plenty of different ways to wear a white shirt. We've pulled together five scenarios in which a white shirt would be suitable—creating a timeless outfit that you can turn to time and time again.
How to Wear a White Shirt to the Office
The office is a great place to wear a white shirt. Available in a range of smart styles, it's a professional option that will show that you are not only serious about your work, but your style too. For a classic business look, pair a white shirt with a tailored suit or blazer. You can also dress down slightly by losing the jacket and pairing the white shirt with chinos or trousers. On your feet, we suggest completing the outfit with leather or suede shoes.
How to Wear a White Shirt to a Wedding
While wearing white to a wedding is deemed inappropriate, this doesn't include men's white shirts. In fact, white is easily one of the best shirt choices for a wedding, regardless of the season. For wedding that have a formal dress code, pair your white shirt with a suit jacket, tie and trousers. If the vibe is more casual, pair it with chinos and suede loafers. You can finish the look with accessories such as a pocket square, watch or sunglasses.
How to Wear a White Shirt on Nights Out
Whether you're heading for after-work drinks or catching up with friends, the white shirt is a reliable option that can be dressed up or down. For a dressy look, we suggest combining your a men's formal shirt the with a tailored suit jacket and contrasting trousers. Alternatively, you can pair a casual Oxford shirt with slim-fitting jeans and smart leather trainers. Don't forget your leather accessories such as a wallet or belt.
How to Wear a White Shirt for Date Night
Whether it's an anniversary, first meeting or your weekend ritual, date night provides the perfect opportunity to get dressed up. Which is why a white shirt is a great foundation for a formal ensemble. You could try teaming a printed white shirt with jeans and loafers, or take the formality up a notch with a blazer and chinos.
How to Wear a White Shirt on Holiday
White shirts are available in a range of styles—from men's formal shirts to short-sleeved styles and playful prints. But when it comes to summer and tropical getaways, you can't go wrong with linen. Lightweight, breathable and effortlessly stylish, a white linen shirt should be packed in every suitcase. Complete the look with navy linen trousers and leather sandals or boat shoes.
How to Care for a White Shirt
Having a crisp white shirt can instantly take your style to the next level. Which is why it's important to be able to keep it looking white for longer. Thankfully, this is a pretty simple process if you know what you're doing. To help, follow our top tips for looking after a white shirt.
By following these tips, it'll help ensure that your white shirt stays looking crisp and sharp. With a little extra care, you can make sure your white shirt is a staple of your wardrobe for many years to come.
Pre-treat Stains
From food to wine, stains are a white shirts worst nightmare—proving pretty stubborn when it comes to getting rid of them. It's important to act fast to prevent stains from setting in. Simply pre-treat them with a stain remover before washing.
Wash Separately
Washing white shirts with other colours can end in disaster. To keep your white shirt from turning grey (or potentially even pink), make sure you wash it separately from other garments. You can wash it with other white clothing, but ideally nothing else.
Use Cold Water
Another simple trick to help keep your white shirt white, is to always use cold water for washing. Using hot water can cause colours to bleed and fade—shortening the lifespan of your new shirt.
Use a Gentle Detergent
What you wash your white shirt with can play a part in how it looks. For the best results, use a mild detergent that is free of harsh chemicals. This will help to keep your white shirt looking bright and fresh.
Hang to Dry
It can be a pain in the winter months, but to prevent your white shirt from shrinking or losing its shape, hang it up to dry. Avoid using a tumble dryer as this can cause the fabric to fade and shrink.
Iron with Care
Ironing a white shirt is one of the easiest and most effective ways to to make it look crisp and sharp. The best method is to use a low heat setting and protect the fabric with a piece of cloth.
Different Types of White Shirts
When it comes to men's fashion, the white shirt is a timeless classic. It's versatile, stylish, and appropriate for any occasion. Whether you're dressing for the office, a night out, or just a casual day, there's a white shirt that's perfect for the occasion. Here's a look at some of the different types of white shirts available for men.
White Oxford Shirt
The Oxford shirt is a classic staple of men's fashion. It's available in both casual or formal styles, but is more associated with the former. It's made from a cotton Oxford fabric and comes with a button-down collar and single cuffs. You'll also often find a chest pocket.
White Polo Shirt
The white polo shirt is the perfect all-rounder—suitable for casual offices, summer holidays and weekend lunches. It's usually made from a breathable cotton-pique fabric and has a collared neckline, short sleeves and a placket with two or three buttons. Polo shirts are also available in long-sleeved styles.
White Button-Down Shirt
The button-down shirt is the same as the Oxford, but can be made from other types of cotton. A must-have addition to any wardrobe, it can be teamed with everything from chinos and shorts to jeans and trousers. You can dress it up or down, depending on the occasion.
White Dinner Shirt
For the most formal events—including awards evenings and black tie parties—the dinner, or tuxedo shirt, is always the best option. It's typically made of crisp cotton and comes with single or double cuffs. There are a variety of collar options to choose from, including wing, cutaway or Windsor. Other design features include a pleated or Marcella bib front.
White Linen Shirt
When the temperature rises, there's no better choice than a white linen shirt. A stylish choice for warm days in the office or days at the beach, it's a lightweight and breathable shirt that'll keep you cool in style. Pure linen versions are available, but they can also be made with a blend of fabrics such as linen and cotton. This combination can help reduce wrinkles (something linen is prone to).
White T-Shirt
The white T-shirt is about as classic as they come. A must-have for everyday wear, it can be worn with everything from jogging bottoms and sweat shorts to jeans and trousers. It's usually made from cotton and can come with short or long sleeves.
Grandad Collar Shirt
The grandad collar shirt is best suited to casual occasions, whether you're dressing for a holiday or garden party. It can also offer something different to wear with a light jacket during the summer. It can be made from cotton or linen, It's usually made of cotton or a cotton-poly blend and comes without a collar and single cuffs.
10 Types of White Shirts for Men
White Oxford Shirt: A classic, preppy style staple.
Grandad Collar Shirt: A relaxed, stylish look for the modern man.
Patterned White Shirt: A great way to add subtle character to your outfit.
Button-Down Shirt: A timeless piece that can be dressed up or down.
Striped Shirt: A timeless pattern that can be worn with almost anything.
Polo Shirt: A sporty, casual look that can be worn with jeans or shorts.
Short Sleeve Shirt: A great option for cooler days in the office or on holiday.
Classic Fit Shirt: A roomier silhouette, that offers optimum comfort for every day.
Slim Fit Shirt: A contemporary, flattering look for any body type.
Linen Shirt: A breathable, light-weight option for summer.