If you're struggling to find the perfect present, remember that the best gifts for him are often those with a personal touch. Personalised gifts offer an easy (and thoughtful) way to make the festive season even more memorable for your loved ones. They also eliminate the risk of buying somebody a gift they already have.
To give you one less thing to worry about this Christmas, we've pulled together five of the best personalised gift ideas for men.Whoever you're buying for, we're confident we have a meaningful present that they'll actually want to keep. And when you're finished, you should also check out our Christmas Gift Guide 2021 — featuring ten more ideas and a fun quiz to help you make your choice.
How to Personalise a Gift
Personalising your gift with Savile Row Company couldn't be easier. Simply choose a product that can be personalised (you'll see the personalisation option on the product page) and follow the step-by-step instructions. There's plenty to choose from, including personalised pyjamas, dressing gowns and cufflinks. You can add up to four initials, or you may want to feature a special date. If there's anything you're unsure of, you can reach out to our customer care team who are always on hand to help.
The Best Personalised Gifts for Dad
Not just for the office, our formal and casual shirts can be worn for a wide range of occasions; from weddings to interviews and business events. We think a personalised shirt is a must-have gift idea for any stylish dad — regardless of his occupation. Depending on personal preference, you can include monogramming on a variety of positions: pocket, cuff centre, cuff above watch and cuff below cufflink.
The Best Personalised Gifts for Husband
What's better than a pair of cosy PJs for Christmas? Pyjamas with your husband's name on. Our personalised pyjamas make an excellent gift choice for anyone who likes to relax in true Savile Row style. You can choose from a wide range of designs made from the softest cotton fabrics. In addition to pyjamas, you can also add monogramming to our collection of lounge pants and lounge shorts.
The Best Personalised Gifts for Grandad
If 'dressing gown' was on your Grandad's Christmas list, why not go one better by personalising it? We bet he won't expect it, and he'll certainly appreciate it. A personalised dressing gown is perfect for adding a touch of personality to your downtime attire (and it will even impress the postman).
The Best Personalised Gifts for Brother
Personalised cufflinks are a popular choice for special occasions such as weddings, but they also make thoughtful Christmas and birthday gifts that we think your brother will love. Engraving can be added to selected sterling silver designs — which also arrive in an elegant Savile Row Company presentation box. If you're really feeling generous, why not complete the look with a formal shirt?
The Best Personalised Gifts for Boyfriend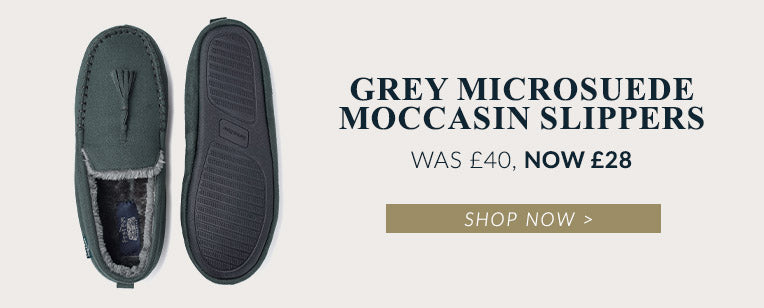 Is your boyfriend always moaning about the state of his wallet? It's time for an upgrade. Buy him a new one and make it personal with our embossing service. Crafted from 100% leather, our sleek designs have plenty of space for credit cards, bank notes and travel pass.
How much does monogramming cost?
To add monogramming or embossing to your chosen gift, an additional charge of £7.95 will be added to your order total. In addition, you will need to allow a further 48 hours for your order to be dispatched. For personalised silver accessories, you will be required to pay £14.95 for the service.
Why do people buy personalised gifts?
Not just for Christmas, our personalised gifts can make memorable gifts for:
Weddings
Christenings
Anniversaries
Prom
Black tie events
While all gifts are special, a personalised gift is one that can be always treasured. Unlike ordinary presents, those that have been monogrammed or engraved will usually have a story behind them and remind people of a happy time. They also show that you know the person, and have gone above and beyond to make sure the gift is something they will love.
Shop our full collection of men's personalised gifts.