2018 was the year the world started to truly realise the impact plastic pollution is having on our planet. 2019 is the year something needs to be done.
At the Savile Row Company, we care greatly about our planet. We believe both individuals and businesses have a responsibility to make changes in order to live and work more consciously and sustainably.
We have vowed to start eradicating all single use plastic across the company, from our offices, to our production warehouses to what our customers receive.
Although our shirt bags were already made of recycled plastic and were themselves recyclable, they would always remain as plastic for centuries to come. This is why we have decided to take our sustainability efforts a step further in 2019.
What is 'Eco-Friendly Packaging'?
It utilises renewable energy, and uses as much renewable or recycled materials as possible. This prevents a strain on our natural resources and also reduces the amount of plastic that is littering our land and sea.
Did you know that all of the plastic ever made (billions of tons of the stuff) 79% still remains on this planet in landfill? A scary thought.
In simple terms, eco-friendly packaging can be recycled.
So, what's new?
Our outer packaging for all mailing items has been changed to a fully compostable and 100% recyclable paper bag, whilst our shirt packaging is now plastic-free and compostable. This means the plastic looking bag our men's formal shirts arrive in will no longer be made from actual plastic. Instead, your new white shirt will be in packaging that is made from fully decomposable potato starch, leaving behind no trace of plastic.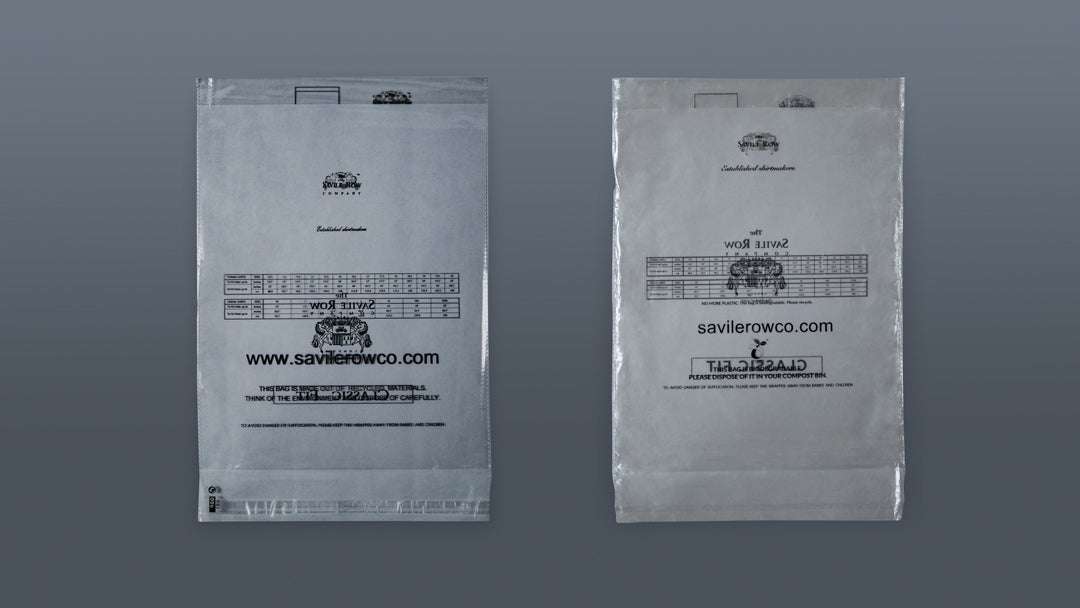 As formal clothing and tailoring retailers it can be difficult to be fully sustainable due to all those fiddly extras that are used in packaging the items. For example, shirts require pins and a collar insert to keep its shape throughout delivery.
Through hard work and research with our packaging designers, we have managed to come up with a unique way to remove this additional plastic without ruining the presentation of the shirt. How? Through the careful design and cutting of cardboard.
Why Have We Changed To Eco-friendly Packaging?
Around a third of all domestic waste is packaging, so it can have a big impact on the environment throughout its lifecycle. By using eco-friendly packaging, not only can we help reduce the waste of natural resources during production of plastic materials, but additionally we can become environmentally friendlier by reducing the amount of plastic waste we are putting out into the world.
And We're Not The Only Ones Who Want Change…
It seems we are not the only ones that care about the impact packaging has on the environment.
We recently conducted a survey of 1000 UK residents that discovered 63% of respondents consider eco-friendly packaging very important, with an additional 33% stating it was somewhat important.
Of this same group, 71% stated their decision to purchase from a brand was influenced by the company's 'green' ethics.
Although food was the area where most (46%) were making more eco-conscious decisions, clothing came in third with almost a fifth (18%) of respondents admitting to focusing on eco-friendly purchases in that area.
But when asked 'Do you think the retail industry needs to do more to be more sustainable with packaging?' an overwhelming 94% said they did, suggesting retailers need to make more of an effort to become eco-friendly – and that's why we've listened.